Turkey's most advanced and sophisticated drone, the Akinci Unmanned Aerial Vehicle (UAV), has made an unprecedented flight from northwestern Turkey to Azerbaijan, which would be among the first countries to receive the drone advanced combat.
Two Akıncı drones took off from Çorlu district in northwest Tekirdağ on May 21, one in the morning and the other in the afternoon, and crossed Turkey and Georgia before landing in Heydar Aliyev International Airport in Baku, said Baykar, the developer of the Akinci and the popular TB2 Bayraktar drone.
The two drones traveled a distance of about 2,000 kilometers, completing a five-hour flight crossing three countries, a first in Turkish aviation history.
This is a further step after the one achieved last month, when the Akinci drone, for the first time, successfully hit a maritime target using a laser-guided MK-82 bomb at an altitude of 20,000 feet as part of the test before his induction into the Turkish Navy.
Akinci will succeed TB2 Bayraktar
The Akinci, which means "Raider" in Turkish, is a high-altitude, long-endurance drone developed as a successor to the TB2 Bayraktar tactical drone, which is currently the mainstay of the Turkish military.
It is capable of performing air-to-ground and air-to-air attack missions.
Baykar initially produced three prototypes, the first of which took to the air in December 2019. Flight testing of the first mass-produced Akinci drone was completed in May 2021, after which the unmanned system was delivered to the armed forces Turkish in August 2021. .
The combat drone has a length of 12.2m, a height of 4.1m and a wingspan of 20m. It can fly at an altitude of 40,000 feet (12,192 meters), has a takeoff weight of 5,500 kg and carries a maximum payload of 1,350 kg.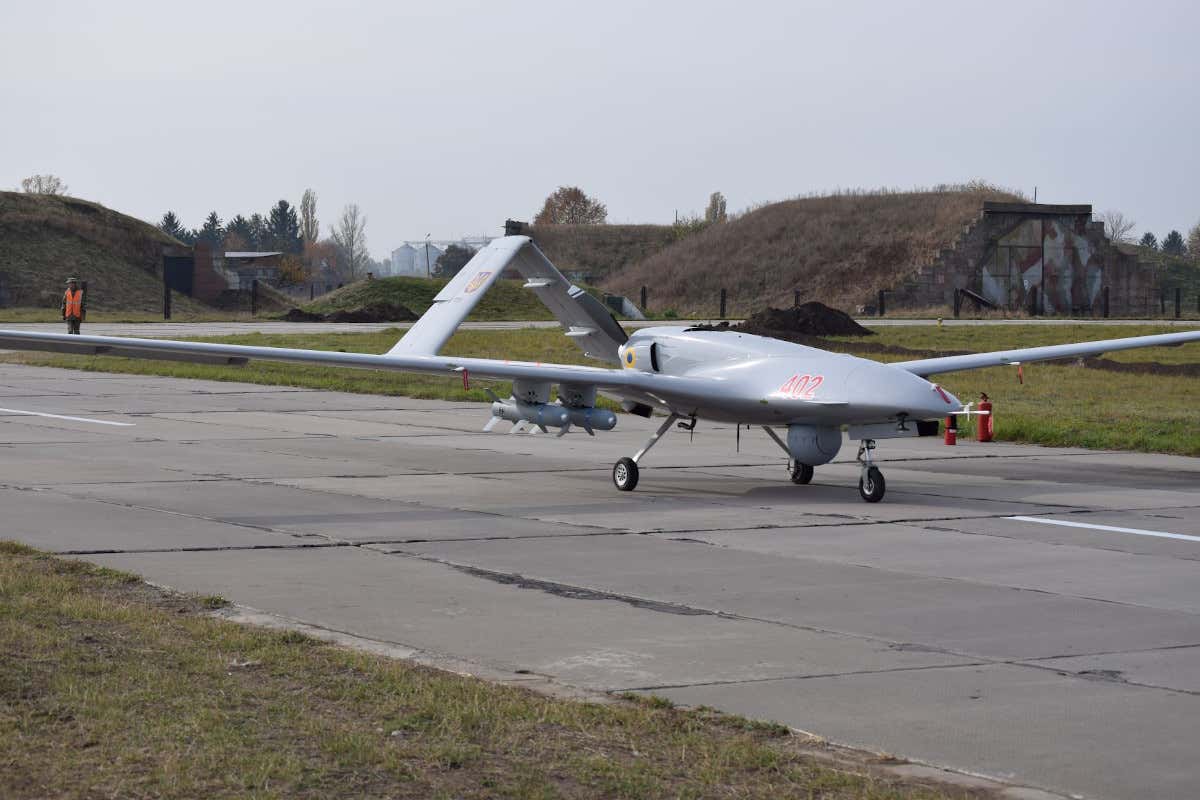 Sensors on board the drone include electro-optical/infrared/laser (EO/IR/LD) designation, active electronically scanned array multi-mode radar (AESA), and signals intelligence system (SIGINT). The drone uses advanced artificial intelligence features to collect and process data received from onboard sensors and cameras.
Experts suggest that Akinci's larger combat payload capacity, compared to Bayraktar TB2, brings more lethal weapons and flexible concepts of operations (CONOPS) to the battlefield.
The drone can be equipped with different weapon payloads such as smart laser-guided munitions, missiles, and long-range weapons.
It completed its first firing test in April 2021, where it fired smart laser-guided micromunitions (MAMs) manufactured by Rokestan, namely MAM-T (long-range variant), MAM-C (thermobaric variant) and MAM- L (high-explosive variant).
Akinci drone can fire other weapons including Cirit missile, Bozok mini smart munition, Long Range Anti-Tank Missile System (L-UMTAS), MK-81, MK-82 MK-83 (JDAM) guided bombs ). The drone can also be armed with Gokdogan and Bozdogan air-to-air missiles, wing-assisted missiles, and SOM-A missiles.
Additionally, the Akinci can also be used as a mothership for drone swarm attacks. For example, in 2019, Professor Ismail Demir, the head of Turkey's Defense Industries Presidency (SSB), posted a simulation on his Twitter feed depicting the indigenous "Alpagu" suicide drones released by the Akinci drone.
Milli İHA platformlarımızdan atılabilen sürü vurucu İHA sistemi ve farklı konseptler üzerine çalışıyoruz. pic.twitter.com/yGHGqjEs7p

— Ismail Demir (@IsmailDemirSSB) May 26, 2019
Alpagu is a fixed-wing drone developed by STM, a Turkish defense company, which can be used for reconnaissance, surveillance and attacks. The drone is equipped with intelligent algorithms and other autonomous features, as well as advanced image processing systems.
The Akinci, using its advanced sensors, including an AESA radar, can share real-time target updates with released kamikaze drones to ensure precision strikes.
So far, six Akıncı drones have entered service with the Turkish Armed Forces and they have just seen combat for the first time in a major operation launched last month against PKK terrorists in northern Iraq.
Will Azerbaijan get the Akinci drone first?
The Akinci drone will be showcased at the Turkish aerospace and technology festival Teknofest later this week, which will take place in Azerbaijan this year, marking its first overseas edition.
Turkish drones have become a weapon of choice for many countries due to their outstanding performance in various conflicts, including the ongoing war in Ukraine. The Turkish-born Bayraktars proved to be the strongest force against the invading Russian forces, having destroyed a large number of Russian air defense systems, helicopters, supply trucks and armored vehicles.
Before that, Azerbaijan successfully used Turkish drones in late 2020 during the Nagorno-Karabakh war and reportedly knocked out as many as 567 tanks and other vehicles belonging to Armenia.
In March, Baykar CEO Haluk Bayraktar revealed that the company had concluded two export contracts for the Akinci drone without specifying the countries. As EurAsian Times reported earlier, Azerbaijan, Pakistan and Ukraine are believed to be among the first countries to receive the Akinci drone.
Dağları, vadileri, tan vaktini aşarak AZƏRBAYCAN'a geldi…

Flew over mountains, valleys and dawn to arrive in AZERBAIJAN… #TEKNOFESTAZƏRBAYCAN 🇹🇷 🇦🇿 #AKINCI ✈️ 🐳🚀 🌍 pic.twitter.com/eHPkc6yCXG

— Selçuk Bayraktar (@Selçuk) May 21, 2022
Some unconfirmed reports in Russian-language media suggest that Baykar is looking to start an Akinci drone production plant in Azerbaijan.
"As BAYKAR, we want to start development work on this technology in Azerbaijan. We will take the initiative to develop and produce it here. Azerbaijanis with skills in this area will be involved in the works," the CEO said.